Mrs. Ward's Waffles and Buttermilk Syrup
The older I get the more convinced I become that breakfast foods make the best dinner. Therefore, WAFFLES. And delicious syrup. My parents always made these waffles from scratch. Apparently my mom got the recipe from a newspaper before any of us can remember. Several years ago my family was introduced to the phenomenon that is buttermilk syrup, and let's just say we haven't looked back.
So on days when you need breakfast for dinner—or breakfast for breakfast, or even lunch—try these guys out and tell us what you think!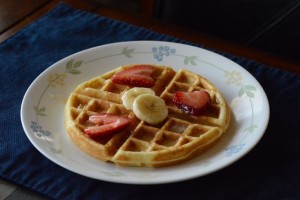 Buttermilk Syrup
½ cup butter
1 c. sugar
½ cup buttermilk
½ tsp. baking soda
1 tsp. or more maple flavoring
Mix over medium heat. When it foams up, remove from heat and add maple flavor.
Mrs. Ward's Waffles
4 eggs, separated
1 Tbsp. Sugar
1 ½ cups flour, stirred and measured
¾ tsp. salt
4 tsp. baking powder
1 ½ cups milk
1/2 cup shortening, melted and cooled
Beat egg yolks. Combine sugar, flour, salt, and baking powder and add to egg yolks alternately with milk. Stir in melted and cooled shortening, and fold in stiffly beaten egg whites. Bake in waffle iron.
—Jennifer Johnson, Stance
---
---